The future of journalism in northeast Wisconsin lies at the intersection of newspapers, big tech, universities and football
May 1, 2023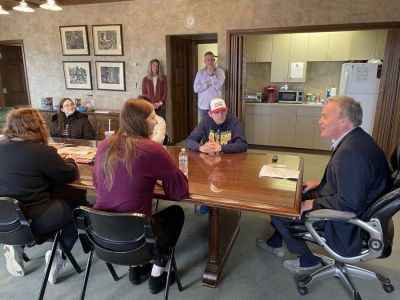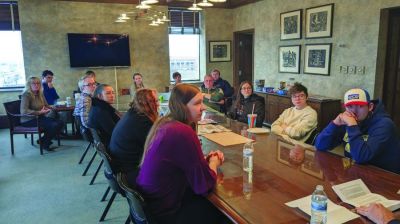 What do Multi Media Channels of Wisconsin, Microsoft, Nicolet Bank and the Green Bay Packers have in common?
For one thing, they share a commitment to local news that is so strong they are investing critical resources in a journalism internship initiative that is going places.
On a Zoom call in March 2023, Multi Media Channels executives Patrick Wood, Kris Leonhardt and Mike Hollihan were excited about the internship program that is blooming into an important initiative for local news, thanks to critical partnerships they have forged with two local colleges, a bank, the Microsoft Corporation and the Green Bay Packers.
It all started in 2021 when Microsoft selected northeast Wisconsin as one of seven local news pilots across the United States as part of its Journalism Initiative. The tech giant donated $300,000 to the Northeast Wisconsin Journalism Fund, "a collaborative effort providing technology support, capacity building and additional funding to boost local journalism and newsrooms," according to a news release published by community partners — the Greater Green Bay Community Foundation and the Community Foundation for the Fox Valley Region.
Across a three-year pilot effort, the community foundations are encouraging other organizations, businesses and individuals to also focus on supporting local journalism.
The program's key news partner is the weekly Press Times of Green Bay, part of Multi Media Channels, which owns 26 newspapers, shoppers and magazines. The company recently announced the purchase of seven additional publications from the Delphos Herald and the Cohen family.
Internships can't happen without student interns, and the University of Wisconsin Green Bay is the program's main education partner, said Hollihan.
The internship calls for six UW Green Bay students to spend a semester working with the newspaper, starting with proofreading and moving on to do bylined work, Hollihan said.
"We watch these students grow from novices to young journalists with real-world experience," he added. "On their first day with us, they usually come in quietly, not knowing what to expect, but after they start interacting with the editors and collaborating with each other to improve their proofreading skills, they began to flourish."
Multi Media Channels is an evolving corporation with deep roots in Wisconsin.
The company traces its beginnings to 1953 when Wood's parents, Frank and Agnes Wood, bought the Denmark Press. Over 50 years, Frank Wood expanded into other markets and grew to 37 print publications before he sold them to Gannett in 2004. He held onto a printing press.
For Patrick Wood, the press signals a nod to the past. But his sights are set on the future.
"Our story is about transformation," he said.
In 2012, Wood seized an opportunity to buy a dozen publications from Journal Community Publishing Group to start Multi Media Channels, and he has never looked back. And he's proving community newspapers can thrive.
"When we bought The Press Times in 2017, the newspaper had 2,300 subscribers," he said. "We invested in local news coverage, sports, and arts and entertainment, and today we are just under 10,000 and growing every week."
Last year, Wood approached the Green Bay Packers football organization and Nicolet Bank, seeking additional grant funding for more interns.
St. Norbert College came on board and provided three interns to join the six from UW Green Bay for the spring semester this year.
Now, the year-round paid internship program hosts nine students for both school semesters and a smaller number during summers.
This program is part of Wood's transformation vision and growth strategy, and the recent partnership with the Green Bay Packers and Nicolet Bank will help take the program to the next level. They are calling it the "Pass it Forward" initiative.
Aaron Popkey, director of corporate affairs for the Green Bay Packers, says the Green Bay Packers Give Back Foundation is all in. He remembers his days as a fledgling reporter in Wisconsin and understands the value of internships in today's evolving media landscape.
Calling himself "an old newspaper guy," Popkey earned a journalism degree from the University of Wisconsin and cut his teeth on the student newspaper and the Madison State Journal.
"I worked on the Madison State Journal's sports desk, and that's how I came to understand how newspapers work," he said in a phone interview.
According to a report on its website, Green Bay Packers Give Back distributed $1.25 million in annual grants to 243 civic and charitable groups throughout Wisconsin last year. Part of that funding helped support the Multi Media Channels "Pass it Forward" internship program and funded three interns.
"We understand the challenges newspapers are facing and the staffing problems that media are going through, and when Pat Wood and Mike Hollihan approached us with the idea of being a resource for young journalists, I thought it was a worthwhile effort to launch," Popkey said. "As a society, our communities need journalists to cover the important issues and ensure people are kept informed."
Leonhardt, The Press Times editor, believes the interns have a bright future.
"I feel we are giving them more than just a toe in the water," she said. "We're giving them a full immersion, helping them hone their soft skills, their critical thinking skills and the mechanics of
journalism."
Leonhardt points to one early success that Multi Media Channels is celebrating. Janelle Fisher, who excelled in her internship while she was working on getting her master's degree, is now a full-time employee.
"We hired her right away, starting out as a reporter, and now she is the editor of City Pages, our arts and entertainment publication," Leonhardt said. "She could go anywhere at this point, but we really hope she never leaves us."
Wood plans to expand the internship program to other publications and digital sites within Multi Media Channels umbrella, and he's working on ways to extend it across other newspapers in Wisconsin. He believes newspapers in other states could have opportunities to adopt a similar program in their markets, too, even those without professional sports leagues or college journalism programs.
"This program could be adapted to high school students and other business partners and local foundations," he said. "We think it can play a strong role in rejuvenating journalism."
Wood recently hired George Stanley, the recently retired editor of the Milwaukee Journal Sentinel as a local news initiatives adviser. In this role, Stanley will mentor and provide real–world education for both interns and full-time
reporters.
"Working with our interns makes me excited about the future of journalism," Leonhardt said. "They are ready to be a part of the community and start making a difference."
The Green Bay Packers organization is also excited about its first year participating in the Pass it Forward program and is keeping the door open for possible ongoing support.
"We are encouraged by the program's starting steps," Popkey said. "We intend to follow it through the course of the year, and we are hopeful our initial funding can help leverage more support in the future."
Wood is passionate about giving back through stewardship in the communities his newspapers serve.
"One of our missions is to eradicate homelessness in Wisconsin by increasing awareness, providing items of necessity to those in need, and housing people who are in town interviewing for jobs," he said. "And the other is caring about local news in small– to medium–sized communities that big media has abandoned or time has forgotten."
His third stewardship mission will enhance the future of journalism by bringing up the next generation of great publishers and editors through his internship program.
Teri Saylor is a writer in Raleigh, N.C. Reach her at terisaylor@hotmail.com.